Riding at the hotel's stud farm on your holiday at the Hotel Freund
A hotel & horseback riding for big & small: Yee-haa, a riding vacation in Sauerland at Lake Eder.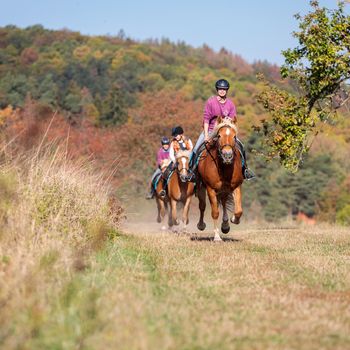 Riding & relaxing
A Short Timeout for Riding Friends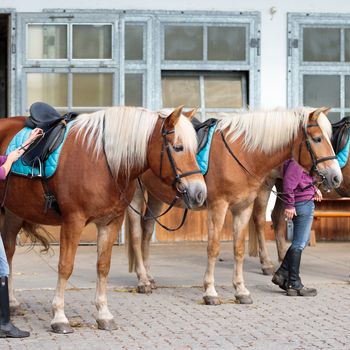 FREUND Riding holidays
6 days of riding with our Finn horses - in idyllic surroundings in Sauerland. Ride, explore, relax! Not just an adventure for kids!
Riding lessons in our hotel
The Finn horses come from our own stud farm and are perfect for learning to ride.

Enjoy wonderful riding lessons and excursions - as a group led by a riding teacher.

Our professional riding lessons will get you comfortable in the saddle very quickly.*
A vacation with your own horse
Do you prefer to ride your own horse? That's not a problem in the Hotel Freund!
Your four-hoofed friend will be accommodated perfectly in our spacious boxes (9m² or 18m²) inlcuding hay and food.
The guest boxes and the new paddock in the outdoor area are located directly at the stud farm.
The combination of hotel and riding is very popular with families
It's no surprise. Which child isn't smitten with horses and can't imagine anything better that spending time with horses on vacation. We'll not only teach your child about the proper care and nature of these fascinating animals but we also offer riding lessons depending on your ability and prior knowledge. You are welcome to watch. But if you would like, you can let your child ride while you treat yourself to a massage. Please remember your riding equipment as we do not have this on loan at the hotel. 


Riding with a tradition
The combination of family and riding holidays has been our trademark for decades and is one of the first addresses for families and not just those with "horse-loving" children. The explanation for this is very simple. And has very much to do with the fact that riding in Hessen can look back on a long tradition.